Why BearStopper Is The Better Bearbox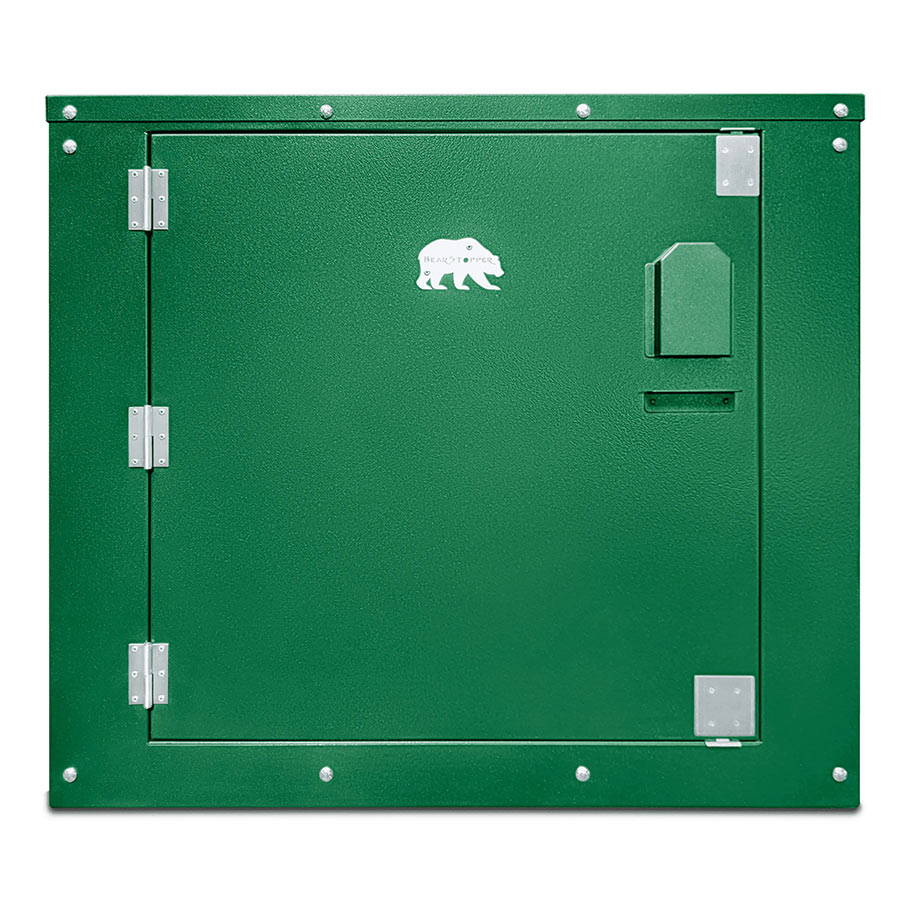 The door is normally the weakest point of a bear box, so we spent hundreds of hours perfecting our design. Here's how we make sure our doors never fail:
We use a heavy-duty steel construction with a reinforced cross member that ensures the door's durability and ease of operation.

The Stainless steel lower door kick plate offers additional door closure protection - you'd be surprised how little space a motivated bear needs to break-in.

Our Stainless steel heavy duty door lift-off hinges offer extra strength to the door and protecting it against rust

We created a Keyless gravity door latch assembly with an interior emergency escape lever that ensures no one gets stuck inside and trash collectors have an easy time picking up your garbage.

The Zinc plated steel slam-latches and stainless steel striker plates provide easy and reliable door closure.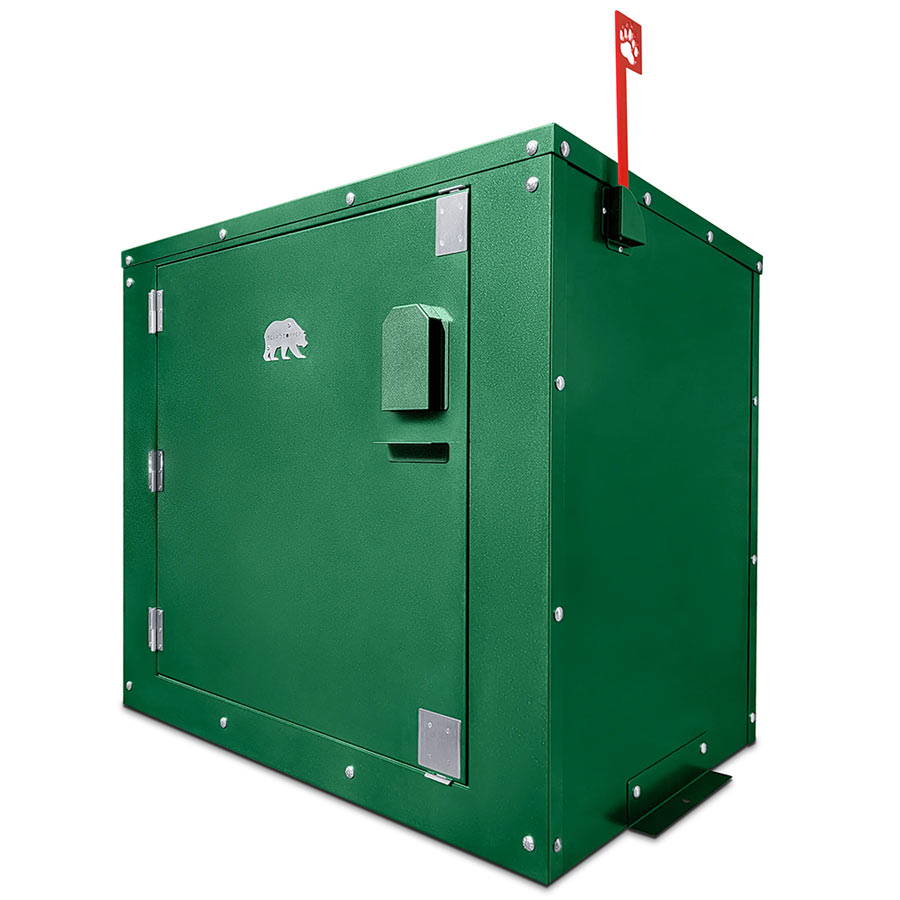 While other companies use cheaper materials for their bear boxes, our enclosure is constructed with quality metal, so it can endure the most severe weather and wild animal attacks.
14 gauge heavy-duty steel panel construction providing strength and durability.

We use interior breather vents for increased airflow. This ensures moisture control inside the bear box. Don't worry, they're also rodent resistant!

Modular design available in 1-2-3 can unit options enabling future GCE expansion

Zinc plated heavy duty durable steel hardware which provides anti-rust protection.

Our pitched roof design sheds rain & snow which offers increased weatherproofing.

We use a Superior "Polyarmor" oven-baked finish which provides anti-corrosive, UV, and graffiti resistance.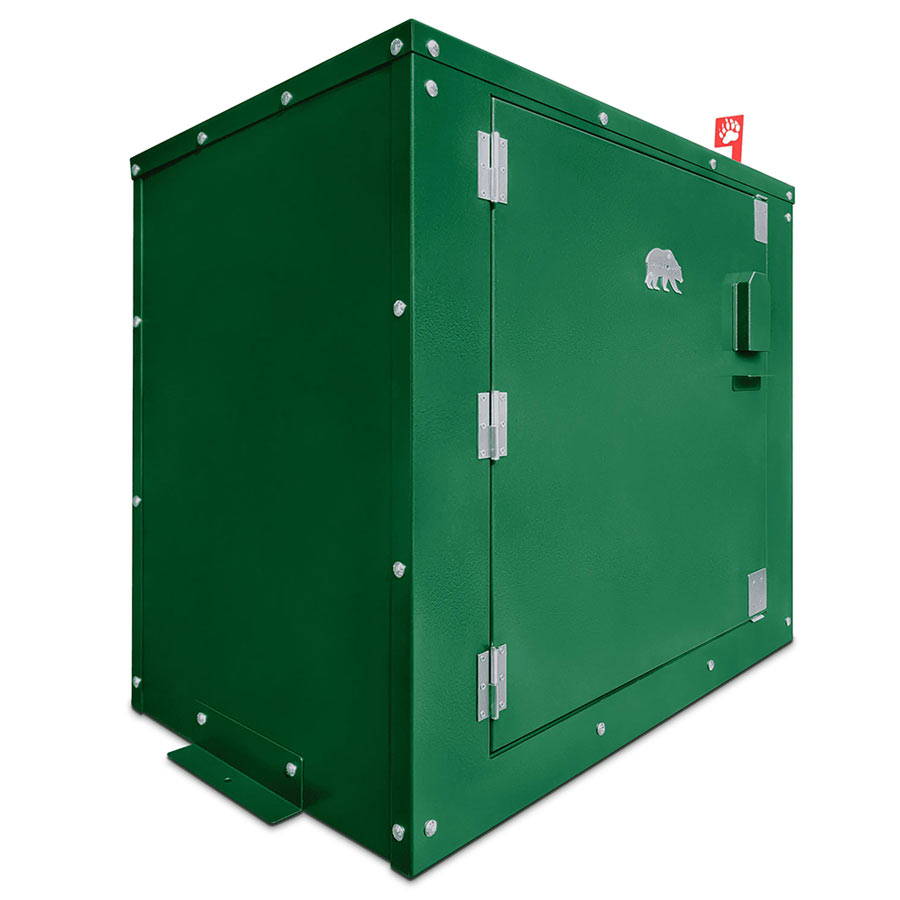 We spent considerable time creating a process that makes mounting the BearStopper bear boxes as simple as possible.
We use rebar reinforced, pier-based, concrete pads which provide significant strength post-hole drilled, and our bear box accommodates both concrete and steel pedestal bases.

If you decide to order the pedestal, we will make sure to include a pedestal and cradle assembly.
Easily Identify Your BearBox With a Snow Kit
Easily Identify Your BearBox With a Snow Kit
What Our Customers Say About BearStopper
What Our Customers
Say About BearStopper
"The Bearbox allows me to store all of my garbage outside. It is well made, and everything about it works perfect. It'll keep the bears out."

"Our Bear Box triple is working great for us. The Bears used to tear into our garbage & now they cannot get into it. The black units look really great."
"There are Bear prints all over the outside of our box & they can't get in. This will be so much easier with our renters."
"Our Bear Box is working great. Our Bearbox really helps with our renters & house cleaner. No more garbage messes from the Bears going through our garbage."
"Our friends who also have a house in Blue Lake Springs commented on it almost immediately with great praise. It has worked great for our first trash pickup."
Frequently Asked Questions
Q. How do I install BearStopper?
We are offering installation in a 400-mile radius from Arnold, CA. If you want us to ship a unit out of this area or do it yourself, we'll send you an installation guide. The guide will include instructions on installing the pedestal mount or a slab mount so you can do it yourself. If you want to have a professional do it for you, we also include instructions on securing a local handyperson to set it up. Click here to get more details on Installations.
Q. Are you doing site surveys?

Do you want a bear box, but need help finding the perfect location to install it? We're offering site surveys at no charge! If you want to get started ASAP, you can send us a few pictures and we'll do a virtual site survey that will quickly ensure you place your garbage can enclosure in the perfect spot. Click here to learn more about our site survey process!
Q. Do you offer any warranties?

We're proud of our Bear Boxes and the work that goes into making them. We believe in the quality of the structure, and we want to back that up.
BearStopper LLC warrants the Covered Product to be free of all defects in material and workmanship for 12 months from the date of purchase. Within the period of this warranty, we will repair or replace, free of charge; any part proving defective in material or workmanship.
If you have any problems with your garbage can enclosure (bear box) before, during, or after the sale, please contact us for assistance and we will make sure you'll end up happy with your purchase!